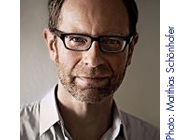 MARTIN KINZLMAIER
studierte Anglistik und Kunsterziehung in München und Bühnenbild am Mozarteum Salzburg.
Nach Bühnenbildassistenzen bei den Salzburger Festspielen, am Wiener Burgtheater und bei den Wiener Festwochen betreute er von 1994 bis 2001 an der Akademie der Bildenden Künste München als Hochschulassistent der Professoren Karl-Ernst und Ursel Herrmann die Klasse für Bühnenbild und -kostüm. Mit den Bühnenbildnern Karl-Ernst Herrmann, Bernhard Kleber und Reinhard von der Thannen arbeitete er am Deutschen Schauspielhaus Hamburg, am Zürcher Schauspielhaus, am Opernhaus Zürich, an der Kungliga Operan Stockholm und am Aalto-Musiktheater Essen.
Er gestaltete Bühnenbilder für Theater und Opernhäuser in München, Hamburg, Berlin, Zürich, Oldenburg, Innsbruck sowie für Theater in Südtirol.
Neben seiner Theatertätigkeit arbeitet er als Stylist und Ausstellungsgestalter.
. . .
is a graduate in English Philology and Education of Art, after which accomplishments he hurried into the wide spread arms of theatre studies at Mozarteum Salzburg.
He assisted numerous renowned Set-Designers for theatre and opera at the Salzburg Festival, at the Wiener Burgtheater and Wiener Festwochen. He felt lucky to join the Professors Ursel and Karl-Ernst Herrmann at the Academy of Arts Munich to take the job of an artistic employée at the Department for Set and Costume-Design from 1994 to 2001.
In collaboration with famous artists like Karl-Ernst Herrmann, Bernhard Kleber and Reinhard von der Thannen, he worked at the Deutsches Schauspielhaus Hamburg, the Zürcher Schauspielhaus, the Kungligan Operan Stockholm and the Aalto-Musiktheater Essen.
He designed sets for theatre and opera in Munich, Hamburg, Berlin, Zurich, Oldenburg, Innsbruck and cities in South Tyrol. In addition to working for theatre, he is frequently commissioned to create sets for magazines and exhibition spaces.
Interior
Der Bühnenbildner und Stylist MARTIN KINZLMAIER und die GALERIE ANGERMEIER in Winden/Obb., die sich auf die Präsentation von Midcentury und zeitgenössischem Möbeldesign spezialisiert, bieten umfassende Beratung, Gestaltung und Ausführung im Bereich Interiordesign an. In engem Austausch mit dem Eigentümer entwickeln wir ein ästhetisch-gesamtheitliches Wohnkonzept, das ganz auf die Bedürfnisse und Vorlieben der Bewohner ausgerichtet ist. Wand-, Plafond-, Bodengestaltung und die Definition des Raumlichts bilden den Fond für ein harmonisches Raumkonzept, das Bestandsmöbel, Vintage, Neuerwerbungen und Maßanfertigungen kombiniert.
Hierbei bedienen wir uns hervorragender lokaler Gewerke wie Maler, Möbeltischler, Polsterer, Fliesenleger, Sanitärfirmen und junge Möbeldesigner. Wir verfügen über Bezugsquellen für exzellente Hersteller von Stoffen, Tapeten, Teppichen, Lampen, Möbeln sowie von ausgewählten Händlern von hochwertigem Vintage Design und arbeiten mit renommierten, jungen bildenden Künstlern zusammen.
. . .
Setdesigner and Stylist MARTIN KINZLMAIER and GALLERY ANGERMEIER in Winden/Obb. will gladly take care of your stylish home.
The Gallery is a retail specialist in Midcentury and Contemporary Furniture Design. Together we provide for good council, conception and realisation, concerning all aspects of interior design. By closely exchanging information with the proprietor, we strive to achieve an all-round living and space concept, thus meeting the needs and likings of its inhabitants, with regard to defining constituents of a harmonious living space, such as flooring, wall-covering, ceiling, lighting, furniture and art.
We take pride in working with the best local artisans, like painters, carpenters, tilers, upholstery and sanitary companies and young furniture designers. We dispose of many excellent suppliers of fabrics, wallpapers, carpets, lamps, vintage design and work with renowned contemporary young artists.