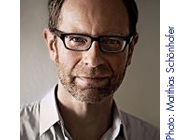 MARTIN ALOIS KINZLMAIER
studierte Anglistik und Kunsterziehung in München und Bühnenbild am Mozarteum Salzburg.
Nach Bühnenbildassistenzen bei den Salzburger Festspielen, am Wiener Burgtheater und bei den Wiener Festwochen betreute er von 1994 bis 2001 an der Akademie der Bildenden Künste München als Hochschulassistent der Professoren Karl-Ernst und Ursel Herrmann die Klasse für Bühnenbild und -kostüm. Mit den Bühnenbildnern Karl-Ernst Herrmann, Bernhard Kleber und Reinhard von der Thannen arbeitete er am Deutschen Schauspielhaus Hamburg, am Zürcher Schauspielhaus, am Opernhaus Zürich, an der Kungliga Operan Stockholm und am Aalto-Musiktheater Essen.
Er gestaltete Bühnenbilder für Theater und Opernhäuser in München, Hamburg, Berlin, Zürich, Oldenburg, Innsbruck sowie für Theater in Südtirol.
Neben seiner Theatertätigkeit arbeitet er auch als Stylist und Ausstellungsgestalter.
. . .
is a graduate in English Philology and Education of Art, after which accomplishments he hurried into the wide spread arms of theatre studies in Salzburg.
He assisted renowned Set-Designers for theatre and opera at the Salzburg Festival, at the Wiener Burgtheater and Wiener Festwochen, like Herbert Wernicke and Karl-Ernst Herrmann. He felt lucky to join Professors Ursel and Karl-Ernst Herrmann at the Academy of Arts Munich to take the job of an artistic employée at the Department for Set and Costume-Design from 1994 to 2001.
In collaboration with artists Karl-Ernst Herrmann, Bernhard Kleber and Reinhard von der Thannen, he worked at Deutsches Schauspielhaus Hamburg, Zürcher Schauspielhaus, Opernhaus Zürich, Kungliga Operan Stockholm and Aalto-Musiktheater Essen.
He designed sets for theatre and opera in Munich, Hamburg, Berlin, Zurich, Oldenburg, Innsbruck and cities in South Tyrol. In addition to working for theatre, he is also frequently commissioned to create sets for magazines and exhibition spaces.